Monthly Market Update
Report for the Month of: June 2017
Provided by James and Korin Giordano of REVISTO Real Estate
Seller's versus Buyer's Market
We like to look at Supply (active listings) and Demand (sold listings) which are lead indicators and are predictive of what may happen in the future. Price is a lag indicator or the result of Supply and Demand. This means that when there are significant shifts in the real estate market, changes are first seen in Supply and Demand. Prices do not respond to a market shift for several months after Supply and Demand weaken, providing Buyers and Sellers time to react.
The Cromford Market IndexTM (CMI) combines Supply and Demand trends to forecast future price increases/decreases. 100 is reflective of a balanced market; Above 100 is a seller's market and below 100 is a buyer's market.
The market remains favorable to sellers, with all cities having a CMI over 100 and all but one city over 110. Avondale remains the strongest market and has been for months, followed by Glendale and Mesa. Based on the CMI metric, expect prices in Buckeye and Paradise Valley to be relatively flat. We'll keep an eye on these cities as well as Scottsdale.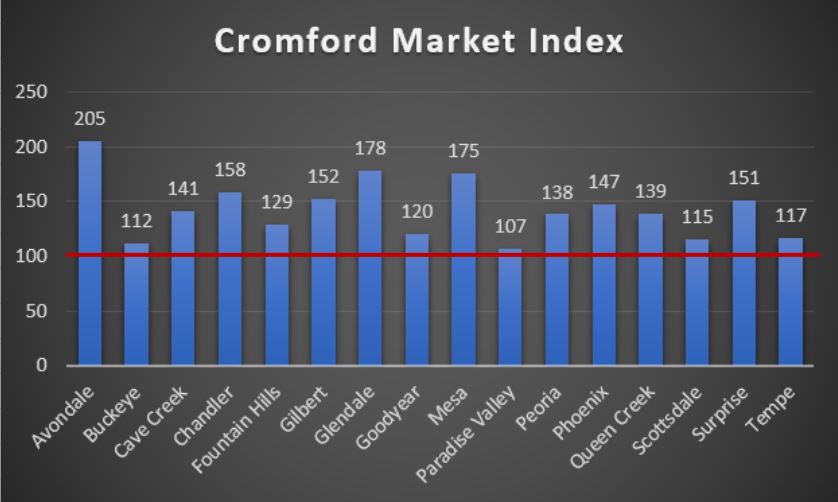 Supply
Chandler had the largest DECREASE in supply again (-21%), followed by Gilbert (-19%) and Mesa (-15%). Cities with an INCREASE in supply were Avondale (+10%), Tempe (+8%) and Buckeye (+3%). Be aware that "Active Listings" does NOT reflect properties sold as pre-MLS homes, also called "pocket listings". These are listings that are sold through REALTORS but that were never listed on the MLS. Also not captured here are the small percentage of homes that are sold by owner.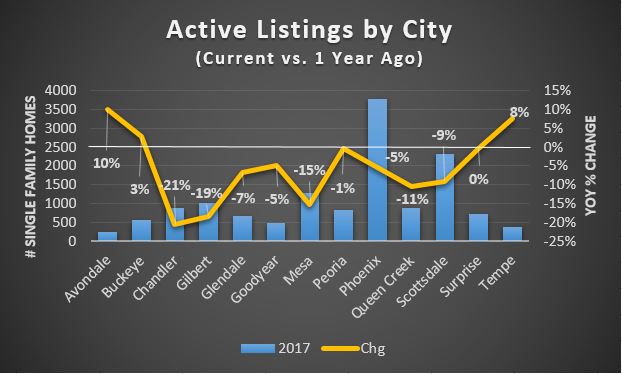 The supply of Single Family Homes decreased by 10% in the Phoenix metro area. The price range with the largest DECREASE continued to be homes listed < $200k (representing 10% of the total listed).
Demand
Demand of homes can be measured by comparing the number of closed sales for the most recent month to the number for the same month one year ago. Glendale and Buckeye had the largest INCREASE in demand; 19% and 14%, respectively. Most cities still have strong demand which is not unusual for the summer when so many families decide to make the move before school starts. Losers, in terms of demand, were Chandler (-13%) and Gilbert and Avondale (both -11%).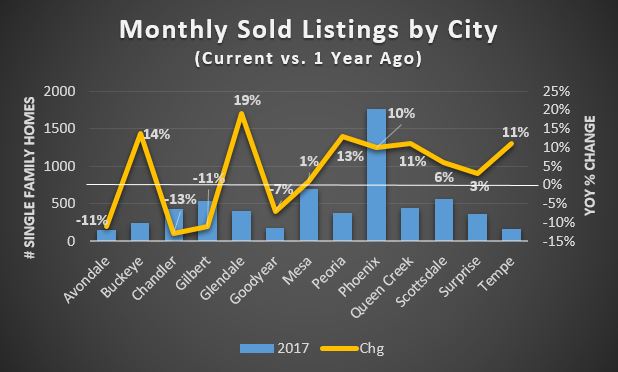 Price
Below is a chart providing annual appreciation for Single Family Homes using the more stable "Average $ Per Square Foot" (Avg $/SF) measure. You can see that there is a large variance between markets across the Greater Phoenix area and we also see variances between zip codes and communities. Over the past 3 years, Avondale, Buckeye and Glendale have had over 20% appreciation; Scottsdale, overall has experienced a mere 8% appreciation. All other cities had between 14% and 20% appreciation over the past 3 years.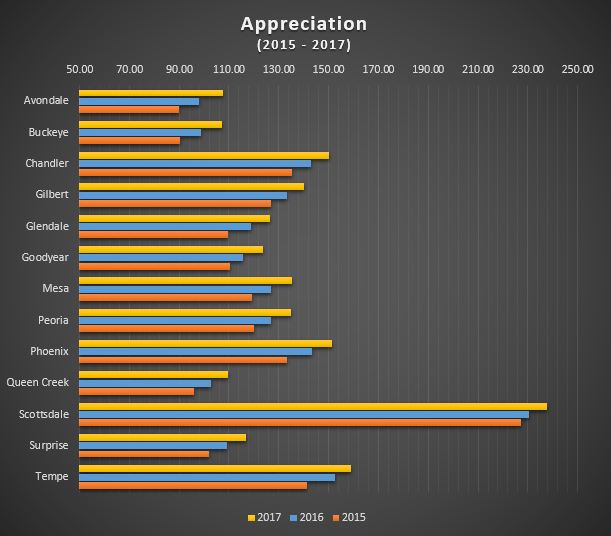 What does this all mean for you?
The above indicators are captured at a point in time and are changing every week. We always encourage you to look at long-trends to gauge where the market is going in your specific neighborhood.
Demand for homes remains strong in most cities and is expected to continue in this direction due to other economic indicators such as the growth of jobs in the Phoenix area, an influx of new residents and low and stable mortgage rates.

Cities on our watch list: Both Avondale and Glendale had an increase in Supply and a decrease in Demand. With the Cromford Market Index (CMI) still very strong in both cities, we can expect appreciation to slow down IF this trend continues.
Homes sold within an average 67 days this June (which is overstated due to a large percentage of homes being left active to secure backup offers) compared to 75 days in June 2016.

Buyers in the "Below $250k" price range will need to act quickly and leverage the skills of a great negotiator in order to get the best properties.

We keep our eye on listings as they come up and also utilize our Realtor network to identify homes BEFORE they are listing on the MLS. Did you know that 40% of the homes sold right now are never listing on the MLS!!
Current mortgage rates are still very low. If you are able to, we advise you to make your move sooner than later so that you are able to get more house and more features for your money.

There are still great programs for Buyers to get into a home for LITTLE of NO MONEY DOWN.

We are happy to connect you to our lending partner for a NO OBLIGATION, NO PRESSURE consultation.
Thinking of Buying? Amazing homes are coming on the market every day. To see all the homes that are available right now, click here for all available greater Phoenix area homes for sale.
Thinking of Selling? To find out how much your home is worth in today's market. Enter your street address here to find out what your home is worth.
Feel free to give us a call at 623-455-5689. We are here to help, and we can give you more detailed information about the market conditions in your specific area.
Lastly, if you would like to see more market updates like this, like us on

Facebook

!